If you look at this blog you would probably never realize that for a longtime I have been doing documentary photography. The thing that got me interested in photography at the start was photographing the world around me (buildings and people) and it was only after I was bitten by the emulsion making and coating dry plate bug that I really got interested in making abstract photographs.
For years I have wandered into shops and photographed people at work. I've photographed artisans and regular people, Heads of State, Supreme Court Justices and CEOs as well as buildings and streetscapes.
In the 1990s I photographed most of the City Squares in Somerville MA (where I lived) and I photographed a historic site in Cambridge MA before they tore it down to make way for newer shopping centers and updated public transit.
This was the Sleep O Rama building, between the City Hall and Winter Hill from what I remember. There are always rumors that swirl around buildings, and the rumor about this building is it is where the "Hostess Twinkie" was made but thanks to the internet I learned it was invented in Chicago, not Somerville. Interestingly enough, Somerville was called at one time "Chicago of the east" because of it's plentiful slaughterhouses, so it's interesting there is another Chicago-Connection.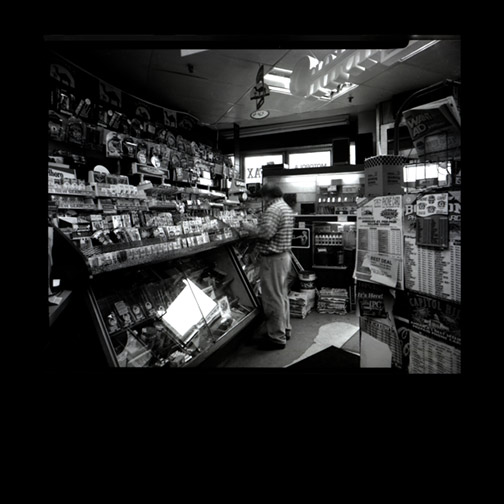 In the mid 1990s Central Square, Cambridge MA was experiencing growing pains. There was a block of stores called "the Holmes Block" that was going to be demolished for a GAP and improved bus terminal. While I bid to document the site for the state/city official documentation, I didn't win the bid/job. Instead I woke up early and over a period of a month or so I documented the site on my own. Usually for these HABS documentations it is just the building that is documented. The Holmes Block was built in the 1800s, and if I had won the job I would have just photographed the streetscape, done 3/4 views of the site, and typical views of some of the shops. Instead I woke up and photographed the block as it lived and breathed. I documented the morning rush, the insides of most of the shops and people doing their thing, I photographed the Dentist and Architect's offices and even an image of the buildings being torn down. I really enjoy photographing people doing their thing showing a sense of place instead of sterile views.
Unfortunately since 9-11 I haven't done much work like this, but I'm always thinking about it so who knows what the next year with bring.